ORIGIN STORY OF CREATE YOUR CREATIVITY AND THE INNOVATION EXPLOSION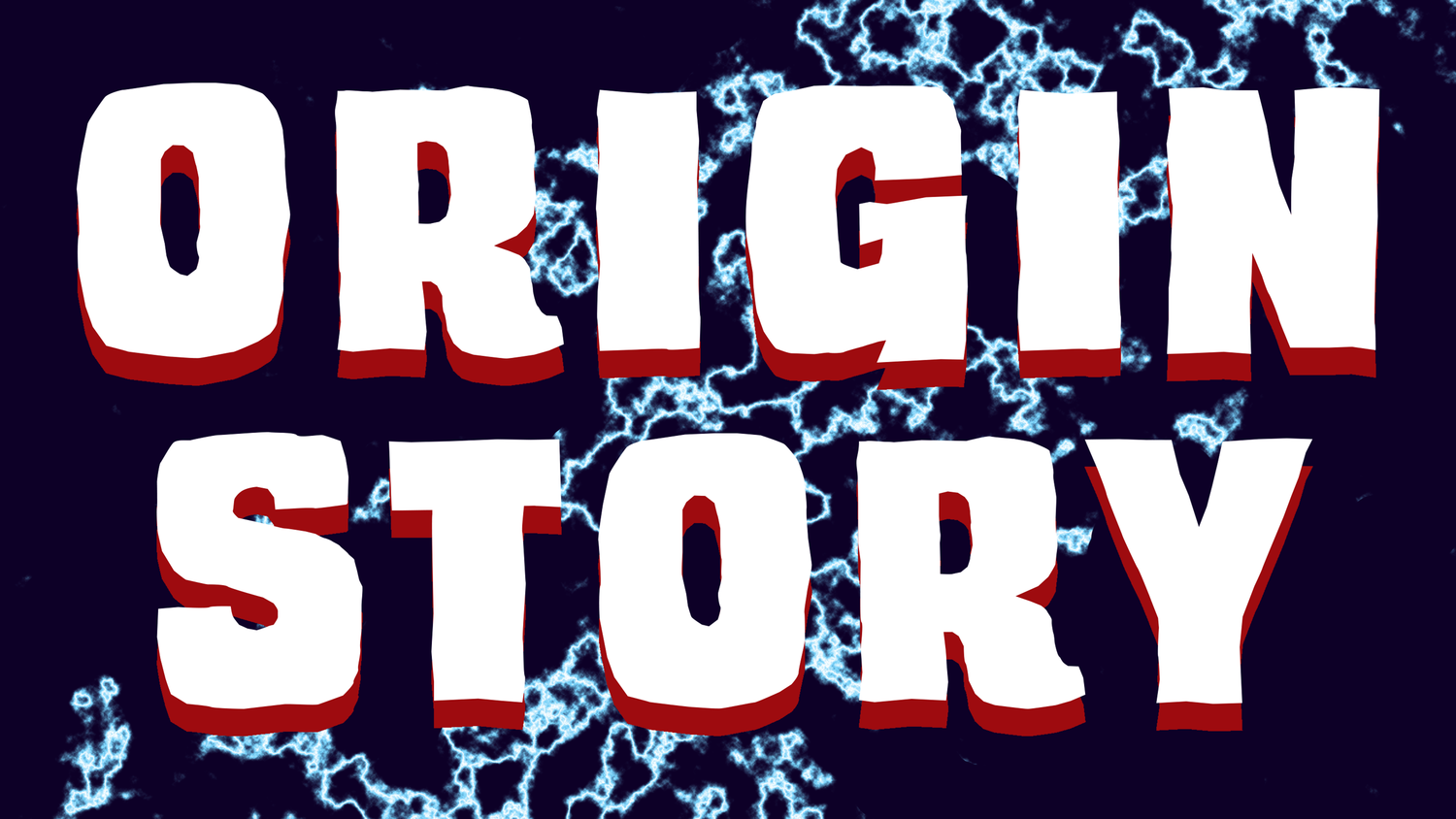 When we created the Academy of Television (ATV) in Johannesburg in 2010 (www.screenarts.tv), I knew from the beginning we needed to have creative thinking in the curriculum. The Academy is a very hands-on, practical training, and Creative Process became the "headiest" course, designed to distinguish us from other South African TV and film schools that didn't get into that inquiry.
I was a creative professional then, not a thought leader – a factual filmmaker with limited teaching experience, way over my head to be designing and launching an entire school, but then that's pretty much how I've lived my life – over my own head.
And so when the Academy launched, I led our first class of learners on a stroll through Julia Cameron's seminal workshop, The Artist's Way.Her book was ground-breaking, published in 1992 as the first public training experience for creatives and creative wanna-bes. Cameron was a recovering alcoholic when she wrote the book, and had become a successful Hollywood writer and filmmaker after quitting drink. She was also the ex-wife of Martin Scorcese and James Cameron, and had a wide experience with the top echelons of Hollywood. She found parallels between creative blocks and substance addiction, and was convinced (correctly) that creativity is a universal talent that needs to be unblocked, not built.
And so she structured the book as a process of recovery in 12 chapters, 12 steps if you will. Each chapter focusses on a particular personal quality, like Safety, Possibility, Power, etc. Each chapter has numerous exercises, reaching back to the past to confront old traumas, or to the future to make lists of goals and visions. It's a rich trove designed to free the inner child and find each participant's true voice.
The book is also one of those seminal "never managed to finish" experiences for most people. It's like Finnegan's Wake– many years ago I read an article listing famous writers and artists who said it was the best book ever written, and sharing on exactly which page they gave up reading it; some say even Joyce didn't understand his own book. The Artist's Wayis as important a step in cultural history as Finnegan– and eats it voyagers in a similar way.
So being guided through The Artist's Wayby an instructor, flanked by peers, was an astounding opportunity for our students. They embraced it with passion. Nobody managed to finish. We tried this for three years without a single student completing everything.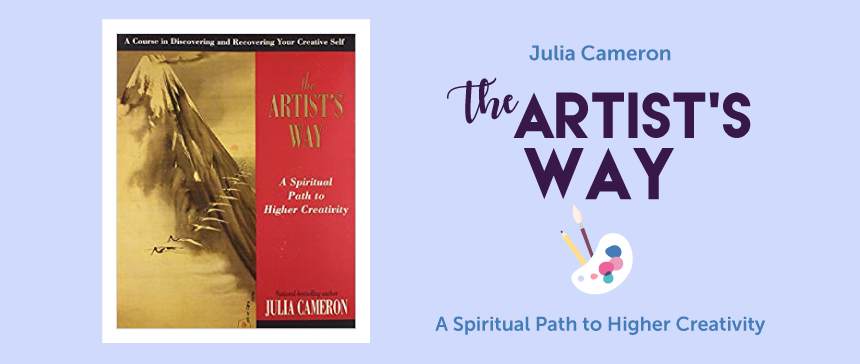 The Artist's Wayis a tremendous achievement, an essential step in our culture's understanding of creativity. Look up the publication dates of the top creativity books and you'll see, Cameron released her book in Creativity scholarship's pre-history. My first engagement with it in the 90s changed my life, and teaching it fifteen years later woke me up to my ability to teach creativity. Yet the more I got to know the book, the more I saw its limits.
Cameron chose the 12 "qualities" very well, but did not stick to them. As you go through a chapter, many of the activities and readings do not match up.
Cameron's is not a coherent process that can be revisited easily. It's an experience, not a training. It doesn't leave you with a process to kindle creativity daily.
The book favors artistically-minded, "hippiesh" activities. Which is fine and effective – but not rapid, professional, and high-impact.
I spent much of the 2000s involved with high levels of training in transformational thinking and coaching. Everything I had learned there was about shifting as much as possible with as few words. The Artist's Wayis brilliant – if you are OK with slow and gentle. I wasn't really.
I began to do more research into the science of Creativity. I introduced myself to the heavyweight books of Dr. Mihaly Czikcsentmihaly, the simply named Flow(1990) and Creativity(1996), and the work of Teresa Amabile at Harvard in the 1980s.
I learned of the decade-long experiment of George Lund, a NASA psychologist, in the 60s and 70s. Lund discovered that 98% of 5 year olds score as creative geniuses, while only 2% of adults reach the same level. Somehow, nearly all human adults lose the creative skills they had as toddlers! Lund's research confirmed Cameron's instinctive idea far ahead of her having it: we humans are on some kind of massive creativity bender. But Lund's alert was far more extreme than The Artist's Wayput it.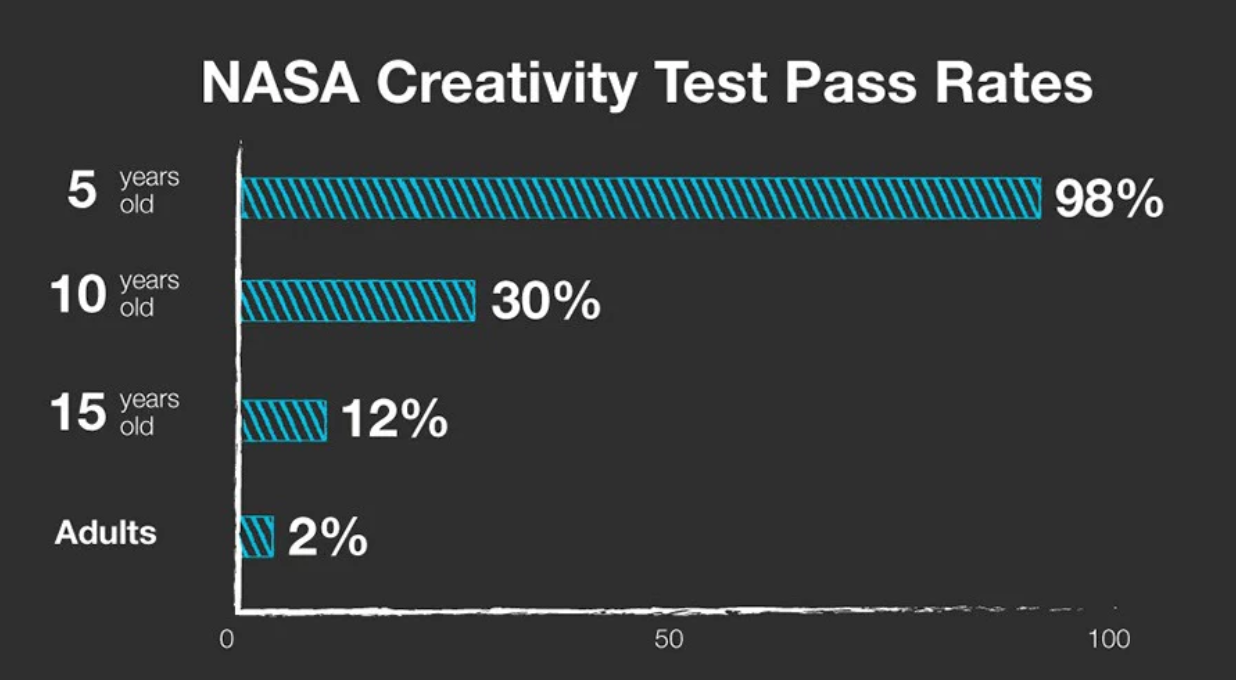 This was not a nice-to-have, chill out and meander and get in touch with fairies thing. This is a worldwide societal crisis and it needs action!
I soon realized another input: Maslow's hierarchy of needs places Creativity at the very top of its pyramid, a form of Self-Actualization or Transcendence. This is where most people put Creativity. Even The Artist's Way treats Creativity as a mystical, intangible spiritual experience rather than a basic skill. I realized people's minds were at stake!
And that there was a different way to teach this! A way that brings Cameron's gentler work into the cutting-edge present and gives it transformational velocity!
I got to work in creating a new workshop of my own design. I did more research into books and articles by thought leaders. I noticed more creative thinking books had come out in the previous decade than in the rest of history. I got inspired by the idea that became the basis of Session 6 (Connection) of my workshop: nothing is original.
So I took all these ideas and beat them around until they composed a simple 12 step process that any person could use to rebuild their creativity from the ground up.
I tested this new course at ATV and it worked. I noticed that people think Creativity is magic when it is actually just a logically structured activity.
After teaching it in tertiary for a few more years, I decided it was time to take it to the world. I called it Create Your Creativity because it's a format of SELECTING your creative self (future base), not UNCOVERING the one you had inside you (past base).
I realized this was actually Innovation – taking Creativity into Action. And The Innovation Explosion was born. The results have been magnificent. And there is more to come.
Read more about The Innovation Explosion and Create Your Creativity in future posts.
Buy The Artist's Way
Buy Creativity
Buy Flow